Watchdog
Operation: Watchdog
Intel tells us that there is going to be a major push to take over the region and it all starts here. If the enemy scceeds in taking over the city we'll lose the region for sure. Stop them at all costs!
Details

Map:

Coastal Threat

Type:

Takeover&Defense

Camo setting:

Snow

Time of day:

Day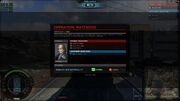 Operation: Watchdog is a PvE mission with both Takeover and Defense objective that takes place on the Coastal Threat map during daytime. It is given by the contact Hana Burić.
Intel tells us that there is going to be a major push to take over the region and it all starts here. If the enemy scceeds in taking over the city we'll lose the region for sure. Stop them at all costs!
Destroy the Bridge
Defend the Hospital
Defend the HQ
Stop Saboteur Choppers (x3) (Listed individually ingame)
On Hard Difficulty, be aware that there will spawn 2 Mini-boss Enemys at D3-4. These will either stay stationary, or move towards F2. They also can hide at the Rock coming from the Western side of the Bridge, in an angle that opens one side of the Player to flanking fire.
On all Difficultys, have 2 Teams for the Last phase of this Mission, so that both Caps can be covered at the same Time.
| Type | Reputation | Credits |
| --- | --- | --- |
| Match Participation | 22 | 293 |
| Mission Complete | 70 | 1800 |
| Primary Objective | 70 | 1800 |
| Primary Objective | 56 | 1440 |
| Primary Objective | 63 | 1620 |
| Secondary Objective | 35 | 900 |
| Secondary Objective | 35 | 900 |
| Secondary Objective | 35 | 900 |
| Total | 386 | 9653 |