Umbrella
Operation: Umbrella
The National Patriot Activist Army has been doing a lot of harm from this airbase. Blockade the airstrip and disrupt their operations until the Department of Peacekeeping Operations' reinforcements arrive.
Details

Map:

Ghost Fields

Type:

Takeover

Camo setting:

Woodland

Time of day:

Day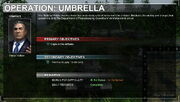 Operation: Umbrella is a Takeover PvE mission that takes place on the Ghost Fields map. It is given by the contact Fedor Volkov.
The National Patriot Activist Army has been doing a lot of harm from this airbase. Blockade the airstrip and disrupt their operations until the Department of Peacekeeping Operations' reinforcements arrive.
Be aware that the cap point triggers a large wave of bots, so do a ready check and/or announce that you're capping.
Destroy Supply Trucks (x3) within X:XX minutes.
After starting the mission, all vehicles should move in the same direction. Moving in different directions makes you very vulnerable on this map since the two groups are separated by hills and mountains, so will be unable to support each other.
Missing