Tsunami
Operation: Tsunami
You've been hired to help reclaim a Cartel-occupied port where they are smuggling contraband. There may be valuable intel in the Cartel's SATCOM trucks if you have time to investigate.
Details

Map:

Port Storm

Type:

Takeover

Camo setting:

Desert

Time of day:

Day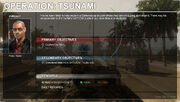 Operation: Tsunami is a Takeover PvE mission that looks like it takes place on the modified Port Storm map. It is given by the contact Petre Sabri.
You've been hired to help reclaim a Cartel-occupied port where they are smuggling contraband. There may be valuable intel in the Cartel's SATCOM trucks if you have time to investigate.
Capture the Port. You have X:xx minutes to complete this mission.
Be aware that entering the cap circle will trigger bots to spawn.
Download Intel from SATCOM Trucks (x3). You have X:xx minutes to complete this mission.
When you trigger the cap spawns, be aware of several artillery that spawn around F0 and G0.
It seems like simply moving forward and staying at the gate at E2, at least in the beginning, is a good idea. Enemy arty will spawn to the left, around C5, together with some other vehicles. Someone in the group should focus there. Once the squad moves into the harbor, there will probably be another arty somewhere around C8. Once fighting is inside the walls, I have not found THE arty position so far. This makes this mission OK for arty, but not really great.