Spearhead
Operation: Spearhead
The People's Liberation Movement relies heavily on this refinery for their Eastern operations. Take over the refinery and don't let them get their hands on any more fuel!
Details

Map:

Roughneck

Type:

Takeover

Camo setting:

Snow

Time of day:

Day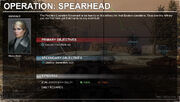 Operation: Spearhead is a Takeover PvE mission that takes place on the modified Roughneck map. It is given by the contact Hana Burić.
The People's Liberation Movement relies heavily on this refinery for their Eastern operations. Take over the refinery and don't let them get their hands on any more fuel!
In order to get there, you must fight your way through several waves of randomly spawning bot.
The cap point triggers a large wave of bots, so be aware, and do a ready check and/or announce that you're capping.
It's best to get the secondaries before starting cap. Note that there are relatively few enemies present on this map, and destroying all of them immediately ends the mission, failing the secondary objective if it is not completed quickly.
Lightly armored vehicles should hold back until the first wave of enemies have been spotted, and snipe from the hill where they spawn. After the first wave, they should move forward and support the MBTs.
Arties should turn left and go up the hill. There is some nice flat area there, and they can cover a great deal of the area. Towards the end, moving further to the left makes you able to cover more of the final target area. This is a pretty good map for arty.
Primary and Secondary Objectives reward 70 rep and 1800 cred each.
TOTAL: 140 rep + 3600 cred.