Snake Bite
Operation: Snake Bite
PLM forces are invading a neighboring town. While they are engaged, move in and take over their supply depot.
Details

Map:

Ghost Fields

Type:

Takeover&Defense

Camo setting:

Wood

Time of day:

Night
Operation: Snake Bite is a Takeover PvE mission that takes place on the modified Ghost Fields map. It is given by the contact Fedor Volkov.
PLM forces are invading a neighboring town. While they are engaged, move in and take over their supply depot.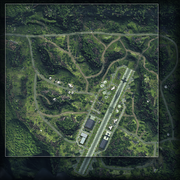 Takeover the Depot within the time limit of X:XX minutes.
Destroy Supply Trucks (x3) within the time limit a X:XX timer.
Placement before Capping it the main key for succeding in this Mission, softskinned/sniper vehicles should place themselves at the hill near the Spawn (middle Western Part) or the ramp that comes down at the northern part of the runway, while MBTs should be at the Cap, and spot for those providing fire support.
Primary Objectives: 98 rep + 2520 cred.
Secondary Objectives: 112 rep + 2880 cred.
TOTAL: 210 rep + 5400 cred.