Ricochet
Operation: Ricochet
The Cartel is using this port to traffic ammo and weapons. Help the International Security Department capture the port. If possible, destroy Cartel supply trucks before they escape..
Details

Map:

Port Storm

Type:

Takeover

Camo setting:

Desert

Time of day:

Night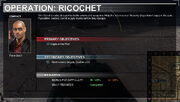 Operation: Ricochet is a Takeover PvE mission that takes place on a the modified Port Storm map. It is given by the contact Petre Sabri.
The Cartel is using this port to traffic ammo and weapons. Help the International Security Department capture the port. If possible, destroy Cartel supply trucks before they escape.
The cap point does not seem to trigger any additional bots.
Mark Enemy Supply Caches (x3)
This is a capture mission. You must take control of the 5 points; randomly, three of them will count towards the mission.
In order to successfully complete the secondaries, you need to have 2 teams, one going up the left edge, and the other going up the right. Last enemies are usually artilleries hanging outside the map in the Nortwest corner.