Quarterback
Operation: Quarterback
The People's Liberation Movement thought they could take the oil refinery in Eastern Europe. Take it back hold until reinforcements arrive.
Details

Map:

Pipelines

Type:

Takeover

Camo setting:

Desert

Time of day:

Day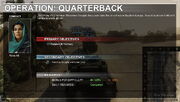 Operation: Quarterback is a Takeover PvE mission that takes place on the modified Pipelines map. It is given by the contact Raha Ali.
The People's Liberation Movement thought they could take the oil refinery in Eastern Europe. Take it back hold until reinforcements arrive.
There is a large spawn of bots on cap, so do a ready check and/or warn everyone before entering the cap circle.
Destroy Supply Vehicles (x5) within X:XX minutes.