Prometheus
Operation: Prometheus
An Enemy cargo ship carrying nuclear warheads has been run aground during a naval battle. Black Company must retrieve the missiles and transport them to the other side of the island where a hover craft will be waiting. Enemies have been commanded to destroy everything if the warheads can't be re-secured.
Details

Map:

Lost Island

Type:

Takeover&Defense

Camo setting:

Desert

Time of day:

Day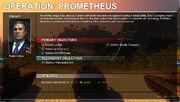 Operation: Prometheus is a PvE mission with both Takeover and Defense objective that takes place on a Lost Island map during daytime. It is given by the contact Fedor Volkov.
An Enemy cargo ship carrying nuclear warheads has been run aground during a naval battle. Black Company must retrieve the missiles and transport them to the other side of the island where a hover craft will be waiting. Enemies have been commanded to destroy everything if the warheads can't be re-secured.
Defend Loader
Power up Generator
Defend COMM Tower
Defend Missile Transport
The biggest problem on this map can be a lack of armor, as there are always are enemys coming from all directions. Also keep in Mind that in the 2nd Phase you need to Cap the Generator AND defend the Cap at the Eastern side of the Runway.
Primary Objectives: 4x35 rep + 4x900 cred.
Secondary Objective: 87 rep + 2250 cred.
TOTAL: 227 rep + 5850 cred.