Phalanx
Operation: Phalanx
The Lions of Nequiel would rather blow up the refinery than let anyone else have it. Break through to the refinery and disarm the explosives before thie senseless act of destruction is carried out!
Details

Map:

Roughneck

Type:

Takeover

Camo setting:

Snow

Time of day:

Day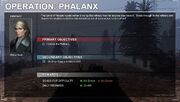 Operation: Phalanx is a Takeover PvE mission that takes place on a modified Roughneck map. It is given by the contact Hana Burić.
The Lions of Nequiel would rather blow up the refinery than let anyone else have it. Break through to the refinery and disarm the explosives before thie senseless act of destruction is carried out!
Destroy Supply Vehicles (x3)
This Mission is pretty Straightforward, the only part to keep in mind is that there are Enemys at the Northwestern and Southeastern Corner, that might not drive out of these places.
Primary Objective: 98 rep + 2520 cred.
Secondary Objective: 98 rep + 2520 cred.
TOTAL: 196 rep + 5040 cred.