Perseus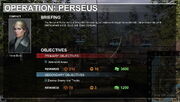 Operation: Perseus is a PvE mission that looks like it takes place on a modified Roughneck map. It is given by the contact [Hana Burić]].
Briefing
The National Patriot Activist Army plan on stealing our missiles to target the capital city. Defend each silo until reinforcements arrive. Good luck, Black Company.
Primary Objective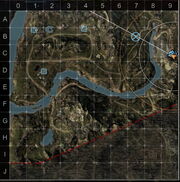 This is a defend mission. You must defend three points, each with a timer of X:XX minutes.
Secondary Objective
This is a destroy mission. You must destroy enemy intel trucks within X:XX minutes.