Hydra
Operation: Hydra
September 15, 2034. The Cartel is sitting on a warehouse full of chemical warheads. Who knows where those things will show up if we don't take them away, quick. Take control of the warehouse and destroy enemy missiles.
Details

Map:

Narrows

Type:

Takeover

Camo setting:

Woodland

Time of day:

Day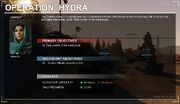 Operation: Hydra is a Takeover PvE mission that takes place on the modified Narrows map. It is given by Raha Ali.
September 15, 2034. The Cartel is sitting on a warehouse full of chemical warheads. Who knows where those things will show up if we don't take them away, quick. Take control of the warehouse and destroy enemy missiles.
Take control of the warehouse
Destroy Missile Launchers (x3)
Suprisingly difficult compared to the rewards.
Right after start, play slowly and repell attacking tank waves. Fast tanks can rush to the first bunker for flanking fire. When progressing down to the capture zone, deal with all enemies that are coming from three different locations, two at the corners of the road and some from the south. Winning by capturing is difficult due to many enemies and the capcircle lying on open low ground.
Good sniper locations are middle east at the river crossing or in the bottom right corner.
The last tank is usually a single enemy vehicle in somewhere near the middle of the map.
Reputation: 70 for each primary and secondary objective.
Credits: 1800 for each primary and secondary objective.
Total: 140 reputation and 3600 credits.