Harbinger
Operation: Harbinger
The Lions of Nequiel are capturing villagers for ransom or forced recruits. You must get to the town square and clear them out while we ready helicopters for civilian evac.
Details

Map:

River Point

Type:

Takeover&Defense

Camo setting:

Wood

Time of day:

Day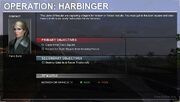 Operation: Harbinger is a both Takeover and Defense PvE mission that takes place on modified version of River Point map. It is given by Hana Burić.
The Lions of Nequiel are capturing villagers for ransom or forced recruits. You must get to the town square and clear them out while we ready helicopters for civilian evac.
Capture the Town Square
Defend the Town Square from Invading Forces
Destroy Satelite & Recon Trucks (x4).
Take care, that after you touched the Takeover Cap, Enemys will respawn north of the City, and also spawn in the South, so clear the Secondary Objectives before. After you have taken over the Cap, and it changes to a Defense Cap, there will also be Enemys spawning on the road in the West.
Last remaining tanks usually hang at square E7.
Primary objective 1: 70 rep + 1800 cred
Primary objective 2: 94 rep + 2430 cred
Secondary objective: 94 rep + 2430 cred
TOTAL: 258 rep + 6480 cred