Frostbite
Operation: Frostbite
A blizzard has knocked out communications with HQ. Get to the satellite stations to restore communications for the oil refinery and reconnect with HQ for further orders.
Details

Map:

Roughneck

Type:

Defense

Camo setting:

Snow

Time of day:

Day
Operation: Frostbite is a Defense PvE mission that takes place on Roughneck map during daytime. It is given by the contact Petre Sabri. The enemy is not mentioned by name in this mission.
A blizzard has knocked out communications with HQ. Get to the satellite stations to restore communications for the oil refinery and reconnect with HQ for further orders.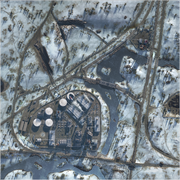 Restore SATCOMs at the Helipad
Restore SATCOMs at the Rail Station
Protect the Oil Derricks
Defend the Eastern Oil Derricks
Guard the Supply Train
Protect the Northern Facility
This mission features multiple secondary objectives that are revealed one by one:
Scout the Southern Pass
Scout the Bridge
Scout the Canyon
This mission can be hard, but if played smartly, be won rather easy. After Capturing the first Objective, if the next is to defend the Eastern Oil Derricks, 2 or 3 members of the playerspeed shoud head there as soon as possible, because the AI can rush this cap, and if you have slower tanks, cap before you can arrive.
Primary objectives: 3x28 rep + 3x720 cred
Secondary objectives: 2x31 rep + 2x810 cred
TOTAL: 146 rep + 3780 cred