Chapter 2: Pursuit
Operation: Chapter 2: Pursuit
Panama Canal, September 15 2042

Magnus took the chlorine from the plant for a chemical attack. You summon the Zubr and follow the enemy so you can find out where he plans to strike. However, your paths are diverted upon reaching the Panama Canal: Magnus continues on his way, but armed security refuse to let you through. The Department has not sanctioned this operation so you will have to act on your own risk.

Details

Map:

Chapter 2: Pursuit

Type:

Takeover & Defense

Camo setting:

Woodland

Time of day:

Night (Nightvision)
Chapter 2. Pursuit is a Takeover & Defense PvE mission that takes place on the Chapter 2: Pursuit map. It is the second mission of the Caribbean Crisis Special Operations.
Panama Canal, September 15 2042 Magnus took the chlorine from the plant for a chemical attack. You summon the Zubr and follow the enemy so you can find out where he plans to strike. However, your paths are diverted upon reaching the Panama Canal: Magnus continues on his way, but armed security refuse to let you through. The Department has not sanctioned this operation so you will have to act on your own risk.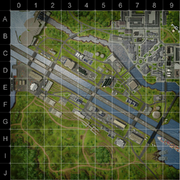 Protect the Zubr
Data Collection
Open the Sluice
Take Bridge
Open the Sluice
Take Bridge
Evacuate
Failing this Secondary will spawn more enemys
At all 6 "Data Collection" Caps, there will be 2-3 Enemys in close proximity. Also, when you have to defend the "Take Bridge" caps, Enemies will swarm from all sides. Lastly, there are 2 Spawns of enemys that WILL ignore players, and only shoot at the Zubr.
| | Credits/Reputation |
| --- | --- |
| Primary Objective | 33/825 |
| Primary Objective | 221/5,525 |
| Primary Objective | 11/275 |
| Secondary Objective | 30/750 |
| Match Participation | 22/293 |
| Total Base Income | 317/7668 |