Chapter 1: Attack
Operation: Chapter 1: Attack
Mojave Desert, September 6 2042

Security at a Clayburn Industries chemical plant has reported an attack by an unknown group. The ISD has sent in your squad to deal with it. You need to figure out what happened at the plant and repel any attacks

Details

Map:

Chemical Plant

Type:

Takeover & Defense

Camo setting:

Desert

Time of day:

Night
Chapter 1. Attack is a Takeover & Defense PvE mission that takes place on the Chemical Plant map. It is the first missions of the Caribbean Crisis Special Operations.
Mojave Desert, September 6 2042 Security at a Clayburn Industries chemical plant has reported an attack by an unknown group. The ISD has sent in your squad to deal with it. You need to figure out what happened at the plant and repel any attacks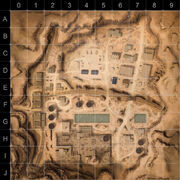 Go to the Plant
Hold the embankment
Capture the refinery
Defend the plant
Escape from the Area
Destroy 5 Fuel Tanks ONLY on INSANE difficuly
Do it in 2 mins 30 s Refers to "Capture the refinery" objective
Capture UAV If completed succesful, it will give the players a UAV Drone that spots about 90% of the map
Destroy 5 Fuel Tanks ONLY on FIGHTER difficuly
When the last cap (Escape from the Area) comes active, it will trigger multiple waves of enemys spawning north & south of the buildings east of the cap, wich on Insane can be extremly overwhelming.
| Difficulty | Fighter (Credits/Reputation) | Insane (Credits/Reputation) |
| --- | --- | --- |
| Primary Objective | 130/3,250 | 30/750 |
| Primary Objective | 10/250 | 30/750 |
| Primary Objective | 30/750 | 10/250 |
| Primary Objective | 20/500 | 130/3,250 |
| Primary Objective | -/- | 20/500 |
| Secondary Objective | 30/750 | 30/750 |
| Secondary Objective | 30/750 | 30/750 |
| Secondary Objective | 30/750 | -/- |
| Match Participation | 22/293 | 22/293 |
| Total Base Income | 302/7,293 | 302/7293 |