Cerberus
Operation: Cerberus
One of the Cartel's elite strike squads is attempting to hijack a key munitions shipment. Take them down.
Details

Map:

Custom

Type:

Takeover

Camo setting:

Desert

Time of day:

Day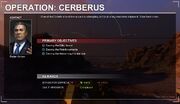 Operation: Cerberus is a Destroy PvE mission that takes place on a custom desert map during daytime. It is given by the contact Fedor Volkov.
One of the Cartel's elite strike squads is attempting to hijack a key munitions shipment. Take them down.
Destroy the Elite Guard (1 Enemy)
Destroy the Reinforcements (1 Enemy on Medium, 2 on Hard)
Destroy the Remaining Lieutenants (2 Enemys on Medium, 3 on Hard)
This mission features an alternating secondary mission. The secondary mission is one of these:
Jam Cartel Scanners (3x)
Destroy Mine Shipments (5x)
Destroy the Transport Trucks (5x)
This mission can be regarded aas one of the hardest, as it feature a total of up to 6 mini-boss enemies (on hard difficulty) or 4 (on medium difficulty). The first mini-boss has not many reinforcements, but it should be taken into consideration, that the 2nd set of mini-boss spawn at G3 immediatly, and are reeinforced by hostiles coming from E3 and F6, G6. The last, and in terms of amount of enemy vehicles hardest wave, spawns together with the mini-boss at B5-C6. Only heavily armored vehicles should try the direct approach, as the amount of enemy fire coming from this final wave can kill even the tanks with the highest HP within Seconds. Also, after every mini-boss is killed in this final wave, there are 1-2 enemys spawning at A5, and charge towards the players. The Mission ends when the last mini-boss is killed.
Primary Objectives: 56+63+70 rep + 1440+1620+1800 rep.
Secondary Objective: 70 rep + 1800 cred.
TOTAL: 259 rep + 6660 cred.