Cavalry
Operation: Cavalry
An allied plane is carrying vital intel about the Lions of Nequiel in the region. You must make sure that intel gets back to your client, the International Security Department.
Details

Map:

Pipelines

Type:

Defense

Camo setting:

Desert

Time of day:

Day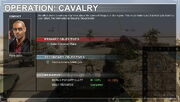 Operation: Cavalry is a Defense PvE mission that looks like it takes place on the Pipelines map. It is given by the contact Petre Sabri.
An allied plane is carrying vital intel about the Lions of Nequiel in the region. You must make sure that intel gets back to your client, the International Security Department.
Defend Downed Plane within X:XX minutes
Entering the cap circle will trigger spawns of enemy bots. Do a ready check or check to make sure your team is ready before entering the cap circle.
You must destroy them within X:XX minutes.
There is a large number of artillery along the western (0) line of the map. Having a vehicle with good view range sight the arty without being spotted will allow the rest of the team to destroy them.
Patch .12 has enemy AI spawning behind tanks advancing to the capture point. No longer do tanks spawn when the capture zone is entered.
Primary and secondary objective reward 70 reputation and 1800 credits each.
Total of 140 reputation and 3600 credits.