Basilisk
Operation: Basilisk
July 11, 2037. Les Affreux attacked a power plant. They have stolen Plutonium for their own malicious use. You must intercept the enemy convoy before they leave the area.
Details

Map:

Reactor

Type:

Takeover

Camo setting:

Woodland

Time of day:

Night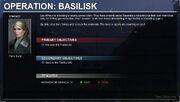 Operation: Basilisk is a Takeover PvE mission that looks like it takes place on a modified version of the Reactor map during nighttime. It is given by the contact Hana Burić.
July 11, 2037. Les Affreux attacked a power plant. They have stolen Plutonium for their own malicious use. You must intercept the enemy convoy before they leave the area.
Secure the Facility (x4)
Destroy the Sattelite Jammers (x4)
The start can be hard, depending on the vehicles you have, because of the first wave of enemies beeing spawned at G,H-5,6, with 2-3 more coming from H2-3. After, or for some while, clearing this first wave, it is possible to start to secure the facility, if this is the secondary objective that is active in this mission. If the secondary is to destroy the Satellite Jammers, one member of the Team should get those that are not immediatly on the way. Before crossing the bridge, the MBTs should reassure themselves that the rest of the Team give firesupport, because on the other side of the Bridge, on the Hill and near the Cap, is the biggest Wave of Hostiles on this Mission, including one mini-boss, that is normally surrounded by normal Hostiles.
Primary objective: 126 REP and 3240 credits
Secondary objective: 70 REP and 1800 credits
TOTAL: 196 REP + 5040 CREDITS