Banshee
Operation: Banshee
The Lions of Nequiel have seized and shut down an oil refinery so they can blackmail the locals into submission. Break the Lion's hold on the facility and teach them a harsh lesson.
Details

Map:

Custom

Type:

Takeover

Camo setting:

Woodland

Time of day:

Day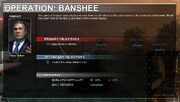 Operation: Banshee is a Takeover PvE mission that takes place on a non-PvP map. It is given by the contact Fedor Volkov.
The Lions of Nequiel have seized and shut down an oil refinery so they can blackmail the locals into submission. Break the Lion's hold on the facility and teach them a harsh lesson.
You must take the enemy capture point. In order to get there, you must fight your way through several waves of randomly spawning bot.
The cap point triggers a large wave of bots, so be aware, and do a ready check and/or announce that you're capping.
Additional care must be taken, because approaching the Cap will trigger a Spawn in the C5-6 area.
This is a capture mission. You must take control of the 4 pumping stations.
Banshee is regarded as one of the harder maps, since objectives are not always on the way and must be captured and mid-game spawn waves can kill unprepared players in the middle.
At the beginning. there is only one way up north past the long train to get into the plant. Watch out for early spawning mini-bosses at either C2 or C5. Later when progressing deeper after killing first tank waves, prepare for new enemies that can often spawn behind players in the middle. Try to stay in the back or coordinate with your team to push in one direction together. Splitting up and therefore leaving flanks open is the most common way of loosing this mission. Try to deal with secondary objectives that are nearby as fast as possible because pushing together into the capcircle is sometimes important to secure the last one. Usually, enemy bots will cluster near the capcircle and with 15 minutes there is plenty of time to either capture the main objective or kill all enemies.
Primary objective rewards 112 reputation and 2880 credits.
Secondary objectives reward for 105 reputation and 2700 credits.
That yields 217 reputation and 5580 credits total.