Armored Warfare
Armored Warfare is a free-to-play massively multiplayer online tactical military game developed and published by My.com. It is currently in open beta on PC, and in development for Playstation 4. Armored Warfare puts players in control of some of the most powerful military vehicles in the world, from lightning quick Armored Fighting Vehicles to powerful Main Battle Tanks.
In Armored Warfare, you will find yourself at the controls of the most modern machines on the planet. Use steel giants to wipe the enemy from the face of the earth, and operate some of the most powerful tools of destruction invented by mankind; heavily armed tanks, tank destroyers, and artillery. These vehicles range from Cold War warriors to vehicles of the most powerful armies currently on the planet. From general purpose combat vehicles, to main battle tanks, and even long-range high-powered artillery, it will be up to you to defeat your enemies and control the battlefield.
Engage in challenging, fast-paced player versus player combat. Collaborate with your allies and execute clever tactics and maneuvers to emerge from battle victorious and your enemies ground beneath your treads. The way to victory isn't always just to destroy all your enemies though; Through a variety of competitive game modes, these game modes will test the mettle of players where group strategies must be employed to take on and overcome other players and teams. Fight in hotspots around the world, ranging from frozen tundras to sun-scorched deserts and lush jungles. Do battle in locations that might be the focus of a modern military conflict, such as high-tech oil refineries, port facilities and population centers. Bring the fight to the 21st Century with destructible environments. Add a new layer of strategy and complexity across every map and scenario where the face of a battlefield could change at a moments notice. Peek over a ridgeline and snipe your enemies from afar, or rush around a hill and surprise enemies by sneaking behind them when they are distracted. The terrain is all-important for combat strategy, and it's up to you to use it to its fullest potential.
Team up with friends and allies to carry out the most dangerous contracts available to Private Military Contractors. Each member of the team will need to perform their role at maximum efficiency to ensure victory and profit as you exploit the war economy of the future! The world in which Armored Warfare takes place is a future where the pillars of sanity which have kept the nations of the earth from devolving into chaos have begun to crumble. By the time the actual battles and adventures in which players are engaging take place, the world has already become a very, very different place. Your job is to work with your team to help keep these pillars in place and fight international terrorism as factions fight for control of regions across the globe.
Build, Upgrade, and Modernize
[
edit
|
edit source
]
Establish relationships with other corporations, contractors and non-government suppliers to build your private military's arsenal. As you gain more combat experience and fight through more battles and scenarios you'll meet new characters and suppliers who will give you access to newer and even more powerful destructive machines, improved ammunition and other resources. As a Private Military Contractor, you'll also be responsible for upgrading and maintaining these vehicles. As you work your way through the fields of battle you will encounter, you'll gain knowledge and experience that will help you make intelligent choices before each battle and decide what strategies to implement in order to capture victory.
The Armored Warfare Open Beta launched October 8, 2015, giving all players access to Armored Warfare without restrictions.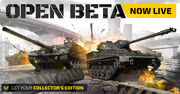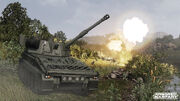 Create an account on the Armored Warfare website
Download the launcher here
Follow the launcher instructions to download the client (size: cca 30 Gb)
Minimal Requirements

OS: Windows Vista/7/8/10 (x32), Windows Vista/7/8/10 (x64)
Processor: Intel Celeron E3400 @ 2.60GHz
RAM: 2.0 Gb
Video Card: NVIDIA GeForce 9500 GT 512 MB

Recommended Requirements

OS: Windows Vista/7/8/10 (x32), Windows Vista/7/8/10 (x64)
Processor: Intel Pentium CPU G3420 @ 3.20GHz
RAM: 4.0 Gb
Video Card: NVIDIA GeForce GT 440 1 GB