Anvil
Operation: Anvil
August 23, 2036. The PLM have "liberated" a vital shipping port. Retake control of the facility.
Details

Map:

Custom

Type:

Takeover

Camo setting:

Desert

Time of day:

Day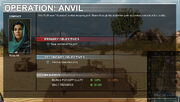 Operation: Anvil is a Takeover PvE mission that takes place on a non-PvP map. It is given by the contact Raha Ali.
August 23, 2036. The PLM have "liberated" a vital shipping port. Retake control of the facility.
Note that the SAMs in the middle of the beach road, amongst the destroyed oil tanks, cannot be accessed from the direction of the spawn, and you'll have to go north around the debris to get to it.
As of update 0.11, the contact voiceover for this mission refers to the howitzers as "SAMs".
As of Update .12 the beach road is now clear and can be driven down. No longer does debris block off a large section of the map.
Driving through the cap circle will trigger a large wave of enemies around D7-D8. Being near that is a poor position, since you will be flanked from several sides. A better option would be to hang further back so that the enemies would be on one side only, and engage them from behind cover.
Primary and secondary objectives reward for 70 reputation and 1800 credits each.
Total rewards are therefore 140 reputation and 3600 credits.