Albatross
Operation: Albatross
February 14, 2038. It appears, Les Affreux airbase has been left poorly defended. An ISD cargo is in route, Clear the area and secure the airship before the plane lands.
Details

Map:

Ghost Fields (snow)

Type:

Destroy,Takeover&Defense

Camo setting:

Snow

Time of day:

Day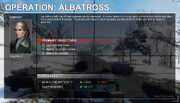 Operation: Albatross is a PvE mission with Destroy, Takeover and Defense objective that takes place on a winterized Ghost Fields map during daytime. It is given by the contact Hana Burić.
February 14, 2038. It appears, Les Affreux airbase has been left poorly defended. An ISD cargo is in route, Clear the area and secure the airship before the plane lands.
Capture Radio Tower
Destroy Command Center
Defend the Runaway
There are several possible secondary objectives, although only one appears in one mission:
Destroy Hideouts (x3)
Secure Fighter Jets (x4)
Take care when Crossing the Airfield in the Middle of the Map, as there are Enemys spawned that can possibly outspot players.
Also, take care when dealing with the last Cap, as Enemys are approaching from all directions at once.
Since Albatross has two variants, there are also different rewards for primary objectives. These are either 70, 63, 56 reputation and 1800, 1620, 1440 credits or 63, 70, 56 reputation and 1620, 1800, 1440 credits for first,second,third primary objective respectively.
Secondary objectives always reward 84 reputation and 2160 credits.
Total rewards are therefore 273 reputation and 7020 credits.